The DSWD Wish to Inform you that the Department of Social Welfare and Development Field Office Caraga has Vacant contract of service position with details as Follows: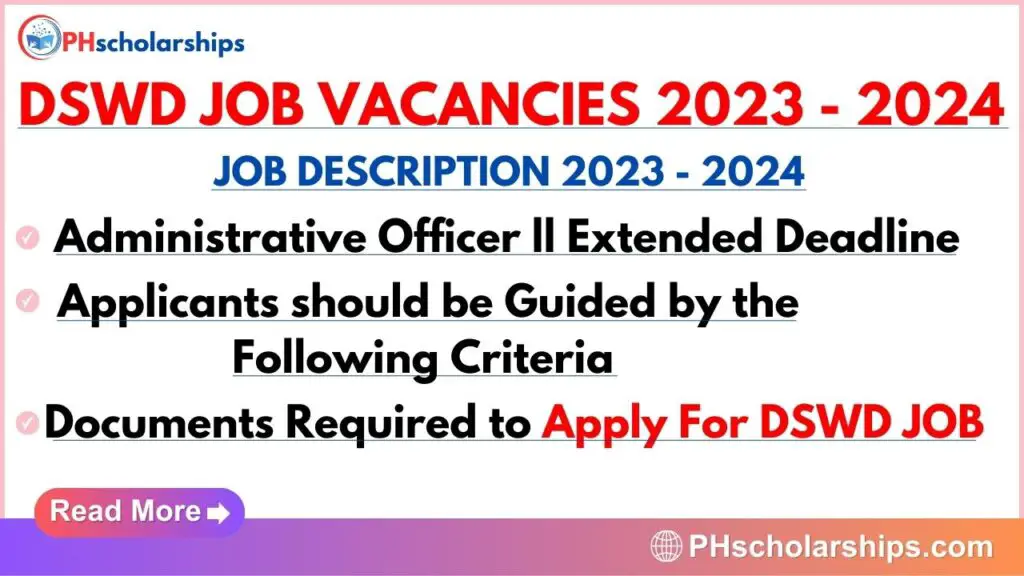 Office : Human Resource Management and Development Division
Administrative Officer ll Extended Deadline
Item Number : N/A
Compensation : SG 11 (PHP 26,265.00)
Place of Assignment : FO Caraga HRPPMS
Preferred Qualifications
Here are list of Prefereed Qualification which going to required to apply for DSWD Jobs
Education – Bachelor's Degree in Psychology Preferred
Training – At least eight (8) hours training in Human Resource Management
Experience – At least (1) one Year experience that involves recruitment using Competency Based System, Career Planning and Development, Performance Management, test administration and Other HR Systems.
Eligibility – RA 1080 (Registered Psychometrician)
JOB Description
The Job Description : Under the General Supervision of the HRMO lll and with some Latitude for the Exercise of Independent Judgment, Performs Somewhat difficult, Responsible Professional Work Pertaining to implementation of human resource management system such as test administration, recruitment, selection and placement and Performance Management and Does related tasks that may be assigned from time to time.
Job Functions and Output:
Facilitates and assist the section in the recruitment, selection and placement (RSP) Processes of Cost of Service Positions.
Provides Secretariat Services to the Human Resouce Merit, Promotion and selection Committee (HRMPSC)
Takes Charge in the Preparation and Documentation of the RSP Processes
Performs as the Testing Service Focal Person,
Prepares Periodic Related reports to relevant offices, Sections and Units.
Acts and serves as Custodian of all Related Forms, Templates and Documents of the Section,
Maintains Staffing, Application and other related datebase, and
Perform other official and related Technical tasks as may be assigned by the supervisor.
Applicants should be Guided by the Following Criteria for Evaluation:
Education (E) – 25%
Training (T) – 10%
Experience (E) – 25%
Initial Qualifying Test (IQT) – 10%
Special Exam (Technical) – 15%
Interview – 10%
IPCR or any related performance Assessment review – 5%
NOTE : Initial Shortlesting – Obtain 75% or 45 Points of the maximum total Score of ETESecond
Shortlisting : Top 5 Highest rating but overall rating should not less than 80%
Those who are interested and qualified applicants may submit their application through https://caraga-iris.dswd.gov.ph/ With the Complete Scanned Copies of the Following Documents Below
Deadline to Apply
Apply Before August 4, 2023.
Documents required to apply For DSWD JOB
Here are the list of Documents which are going to apply for DSWD JOB:
Application letter addressed to Regional Director Mari – Flor A, Dollaga-Libang:
PDF File of duly Filled out Notarized Personal Data Sheet With affixed signature and Passport size ID Picture (Civil Service Form No.212, Revised 2017 with can be downloaded at https://tinyurl.com/cscform212r2017)
PDF file of Duly Filled out Work Experience Sheet with can be Downloaded at https://tinyurl.com/cscform212r2017
Authenticated copy of Transcript of Records or Equivalent
Authenticated copy of Certificate of eligibility/rating/license (if applicable)
Copy of Certificate of relevant trainings and seminars attened (if indicated in the PDS) and
Copy of duly signed individual performance contract rating/summary of rating performance contract Assessment or equivalent (if with work experience)

How to apply and what to follow before applying
All applications shall Only be submited through be above mentioned link.
Files should be in a PDF/PNG/JPEG (ensure all the files are Clear and Readable) if you have multiple pages or Photos for one requirements, you may use this link https://conbinepdf.com/ for Combining Documents.
Requests for Extension of Submission and application with incomplete Documents shall not be entertained
All Communications pertaiing to your application shall be send via text or by e-mail.
For More information you may call Human Resource Planning and Performance Management Section through the Telephone Number (085) 303-8620 local 114 or you can send us your queries throuhg https://caraga-iris.dswd.gov.ph/
---
Note: The articles in this site are for informational purposes only, we are not affiliated to the entities featured, on every post source link are provided at the bottom of every article so that you can Double-Check the Genuine of the jobs or Scholarships.
---
[Source – https://www.facebook.com/dswdcaraga]