DSWD – Officially launched the Pilot implementation of the Tara, Basa! Tutoring Program at the Rizal High School in Pasig City on Wednesday. The Reformatted educational assistance of the DSWD, That help and provide assistance to the College Students from Low-Income Families who are in Difficult Situations.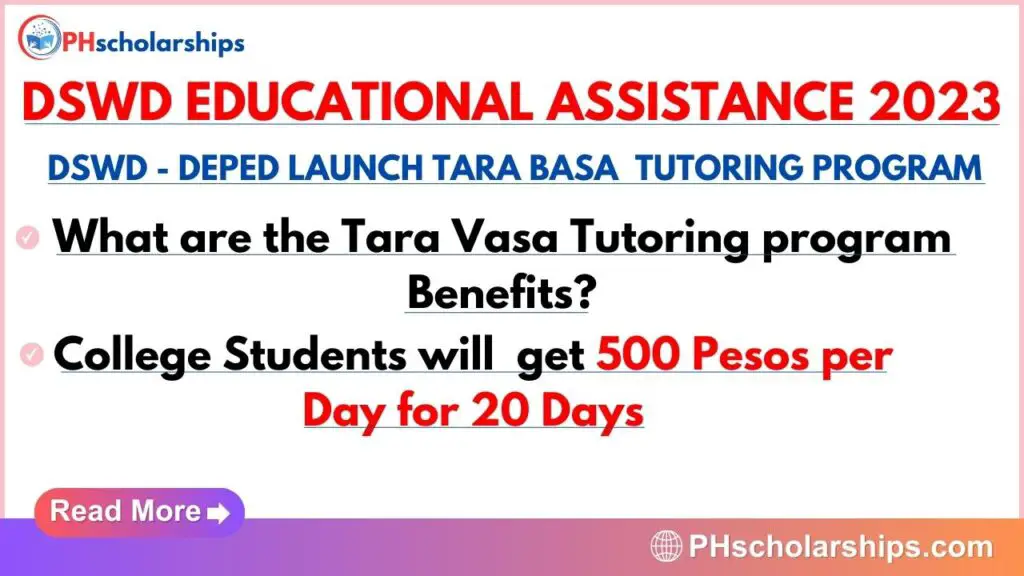 For the First time The DSWD and DepEd have joined forces to help those elementary school Students who are Struggling or non-readers, College Students who are in need to continue or Complete their Education, and Parents and the entire community that have an Important role in shaping Childrens's Reading Skills.
What are the Tara Vasa Tutoring program Benefits?
Here are the Benefits Students get in Tara Vasa Tutoring program:
DSWD Taraa, Basa! Tutoring Program will help students how to read,
DSWD Will engage Second to Fourth Year College Students who belong to Low-income Families,
Tutors and YDWs will receive Cash assistance worth of P500 per Day for 20-days from the DSWD Through a Cash for work Scheme,
College Students will be given 500 Pesos per day for 20 days in return for being tutors and youth Development Workers.
Parents and Guardians of struggling or non-reader elementary learners will also receive cash aid worth PHP 235 per day for 20 days.
Parents and Guardians who attend the "Nanay-Tatay Teacher" Sessions will also receive PHP 235 Per day for 20 days, As the Children's First Teachers.
DSWD will also provide eyeglasses and hearing aids to those students who will be assessed with visual and hearing impairment.
How many College Students gets Help in DSWD Assistance?
More than 6,000 College Students and over 63,000 Grand 1 learners and Parents and Guardians will benefit form the Program.
DSWD Educational Assistance
The 20 days Program, Which is in partnership with the (DeppEd) – Department of Education, Will be given participating Students with ₱570 per day as tutors and Youth Development Workers, The DSWD Said.
DSWD Secretary Rex Gatchalian Said:
The Tutoring Program targets 3rd Year of 4th year Students. Authorities already spoke to local universities to know who among their students have free time and want to earn an extra income.
What is tutoring program?
The tutoring program aims to help struggling or non – reader incoming second graders, "Pagtapos ng 20 days magbibigay yung DepEd ng post-test para masukat natin kung iyong mga tinuturuan ba ay natuto naman magbasa at kami confident kami sa galing ng ating college Students na nag-volunteer maging tutor". Gatchalian said.
The Youth Development Workers will also hold sessions with parents and guardians on effective parenting topics such as dynamics of the Filipino Familiy and Children's rightss and child Development.
The Parents of Participating learners will get ₱235 per day in cash aid.
The Program will be Piloted in:
Metro Manila and that may expanded Next Year, Vice President and Education Secretary Sara Duterte Said.
How to Apply DSWD Educational Cash Assistance?
To apply DSWD Educational Assistance Join us on Facebook Group on how to apply or Updates on DSWD Assistance

---
Note: The articles in this site are for informational purposes only, we are not affiliated to the entities featured, on every post source link are provided at the bottom of every article so that you can Double-Check the Genuine of the jobs or Scholarships.
---
[Source – https://www.dswd.gov.ph/]