Good News for Filipino Students, Dowell Scholarship 2023 is now open to apply for all interested College Students, Dowell announced the launch of scholaship program called "Be a DoWell Scholar" on Facebook Post.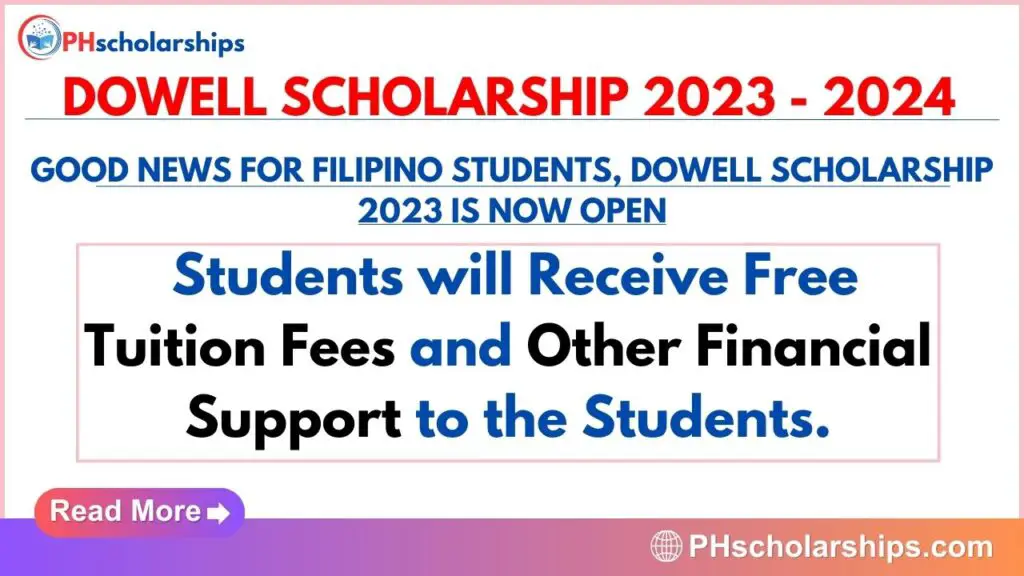 Dowell scholarship is a prestigious and hightly sought after scholarship that opens the door of opportunity for Countless individuals.
NOTE – The Dowell scholarship is only eligible for incoming and ongoing college students.
Benefits of Dowell Scholarships
Benefits of Dowell Scholarship students will receive free tuition fees and other Financial Support to the students.
Also Apply – Scholarship for Coconut Farmers
Dowell Scholarship Deadline
The Scholarship Deadline is on August 31, 2023. Apply Before it ends
How to Apply Dowell scholarship
To apply Dowell scholarship you need to follow the steps below:
All applicants who are interested to apply for scholarship should make a note of the following points:
Announcement of the who is nominates will be post on Dowell Facebook Page on September 8, 2023.
The chosen Dowell Scholars will be notified via text message, phone call, and email.
Chosen Dowell Scholars shall acknowledge the notification of their winning by signing a contract.
---
Note: The articles in this site are for informational purposes only, we are not affiliated to the entities featured, on every post source link are provided at the bottom of every article so that you can Double-Check the Genuine of the jobs or Scholarship
---
[Source: Dowell]