Good News to All NCFRS – Registered Coconut Farmers!
The Scholarship Program shall be accessible to the qualified and deserving Coconut Farmers and their families duly registered under the National Coconut Farmers Registry System – NCFRS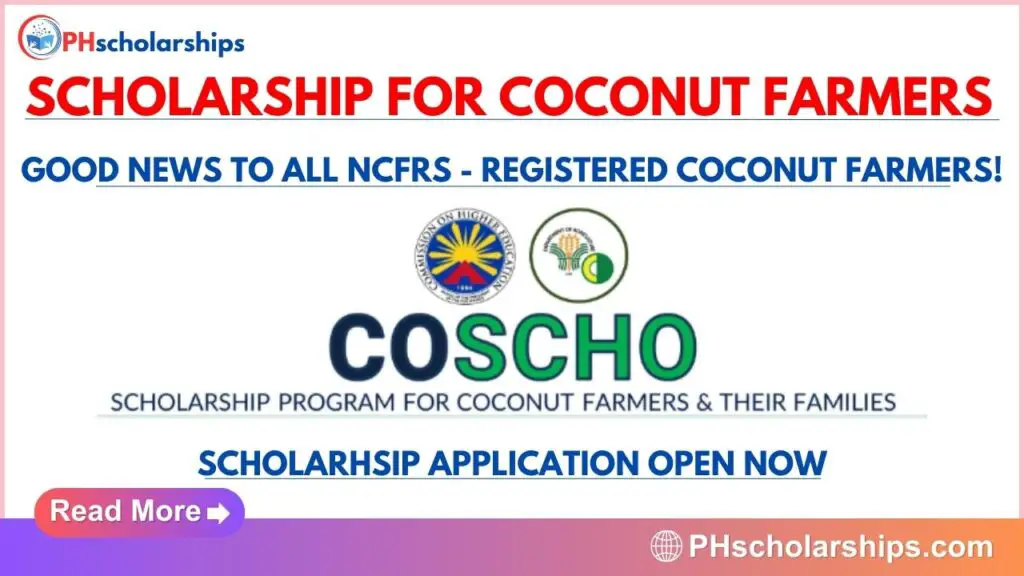 This Program shall cover the undergraduate students who will enroll or are currently enrolled in agriculture: Agriculture, Agricultural Engineering, Agribusiness Management, Agricultural economics and Other Programs Identified by the Philippines Coconut Authority
What are the Qualification?
Here are some of the qualification need to apply scholarship:
He or She must be Filipino Citizen,
Graduate with a general weighted average grade (GWA) of 85% the previous semester or its equivalent,
He or she must pass the entry level requirements of identified state Universities and Colleges (SUCs)
He or she must not be a enjoying of any government founded financial assistance program.
Dully registered coconut farmer in the NCFRS or He or She dependent and
Must have a annual gross income of parents not exceding PHP300,000.00.
Also Read – Tertiary Education Subsidy 2023
What are the Documentary Requirements?
Here are the list of Documentary Requirements helps to apply for the Scholarship:
Birht Certificate issued by the Philippines statistics Authority,
Academic

For senior high school students – Duly certified true copy of grades for Grade 11 and first Semester for Grade 12.
For Senior High school Studetns Graduates – Form 138

PCA Certification only one family member shall be allowed to apply for the Scholarship,
Should have a certificate of Good moral character from the last school attended,
Proof of income Certificate any of the following:

Latest Income Tax Return (ITR) of applicant and spouse, parents or guardians if employed,
Certificate of Tax from the Bureau of internal Revenue (BIR),

Notice of admission form the HEI with Collegiate degree offerings,
Proof that the student applicant belonged to special groups (If applicable),
Orginal Barangay Certificate that parent or Guardians and Siblings had never attended College/University – If Applicable.
List of Priority Courses:
Here are the list of Priority Courses
BS in Agriculture,
BS in Agricultural Biotechnology,
BS in Agricultural and Biosystems Engineering,
BS in Agribusiness/Agribusiness Management,
BS in Agricultural Economics,
BS in Agricultural Chemistry,
BS in Agricultural Entrepreneurship,
BS in Agricultural Engineering,
BS in Agricultural Extension Education,
BS in Biology,
BS in Biochemistry,
BS in Business Administration,
BS in Development Communication,
BS in Development Management,
BS in Economics,
BS in Environmental Engineering,
BS in Environmental Science,
BS in Fisheries,
BS in Food Engineering,
BS in Food Science and Technology,
BS in Forestry,
BS in Manufacturing Engineering/Manufacturing Technology Engineering,
BS in Marine Biology,
BS in Political Science,
BS in Physics,
BS in Psychology,
BS in Public Administration,
BS in Rural Development,
BS in Solical Work,
BS in Statistics and
BS in Tourism,
For More Details Follow the link – CHED RO XI is on Facebook
How to Apply?
For more information regarding the scholarship, contact the CHED Regional Offices.
To Apply you may follow the link Application Form, Fill the Form and submit the application online.
Source :- CHED RO XI is on Facebook