Good news for Filipino Students who are looking for Scholarship, The CHED CGI Scholarship Program is now open for Application to the interested and eligible Filipino Students.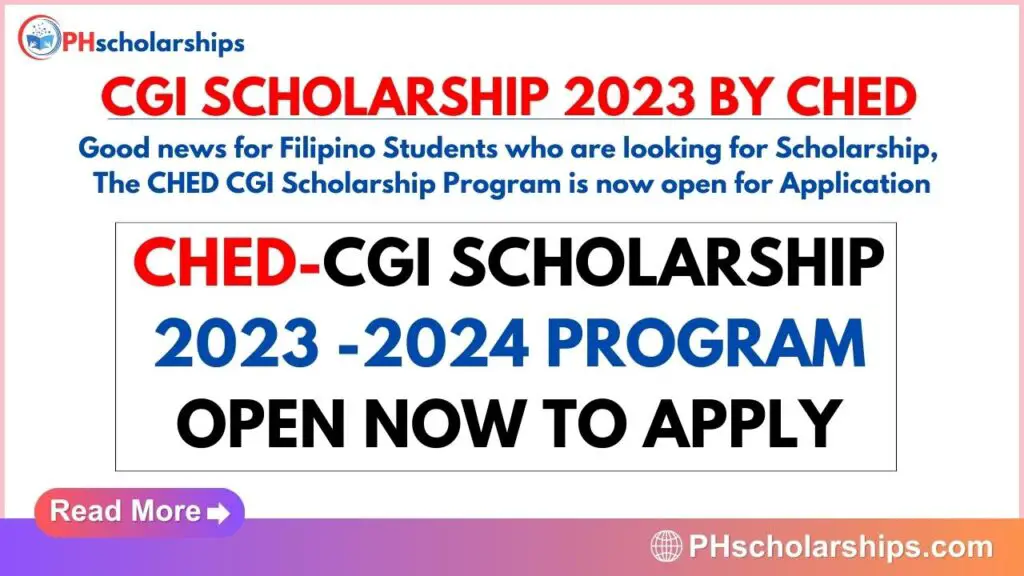 CGI – Chulabhorn Graduate Institute Scholarship
The CHED has announced the call for applications to the Chulabhorn Graduate Institue Post Graduate schoalrship Program, Scholarship is open for all International Students who are interested to pursue Master's Degree in the various fields of Science and Technology in Thailand.
The (CGI)-Chulabhorn Graduate Institute is a Multidisciplinary Post-Graduate Academic Institute established in the Year 2005, The CGI is Presently offering Programs leading to Master's Degree in:
Applied Biological Science,
Environmental Health,
Environmental Toxicology and
Chemical Sciences.
Eligibility to Apply Scholaship
The Scholarship are open to the eligible applicant who meet the following Qualification:
He or She must be under 30year of age,
He or She must hold a Bachelor Degree with a Cumulative GPA of least 2.75 in the following fields:

Sciences

Chemistry,
Biology,
Biological Sciences,
Molecular Biology,
Environmental Science,

Medical Sciences:

Medicine,
Medical Technology

Pharmacy or Pharmaceutical Sciences
Applicants who are form other related fields are welcome to apply for Scholarship
Those who have experience in Scientific Laboratory research,
Must have Demonstrated English Proficiency,

Preferably on one of two recognized tests of language Proficiency (TOEFL, IELTS).

Must provide a statement of Purpose Explaining their Interests in the study.
Also Read – Call for CHED Coscho Scholarship
What are the Field of Study
Applied Biological Sciences
Environmental Toxicology
Chemical Sciences.
What are the Benefits of Scholarship
The Scholarship will cover the following benefits:
Tuition and Other Academic Fees
Credit Fee,
Laboratory Expenses,
Refresher Course,
Enrollment fee,
Thesis Fee,
Production of Thesis Documents,
Round Trip airfar,
Visa Fee
First Settlement Allowance,
Relocation,
Accommodation,
Monthly Stipend,
Book Allowance,
Health Insurance and
Other Allowance.
Documentary Requirements 
Here are the Following Documents Need to submit along with Applicaiton form:
Full Academic Transcript,
Three Recommendation Letters,
Statement of Purpose explaining intrest of study,
Medical History Report
Other Supporting Documents of Facilitate application screening.
Slots availabe to apply
This Year 2023, 15 Scholarship Slots are availabe for international applicants – Except Thai Citizen.
Applicaiton Deadline
Applications are welcome to apply before 30 September 2023.
When will get Notification of the Award?
The Successful applicants will be notified of the outcome by the CGI around January 2024.
How to apply for this Scholarship
All the Interested candidates may submit the applicaiton by visiting the scholarship website at – https://www.cgi.ac.th/admissions/cgi-af-scholorship/ to get Application form and more information.
For any inquiries or concerns, interested applicants may directly contact the CGI Throuth email address at cgi_academic@cgi.ac.th
---
For More Scholarship Updates Join us on Facebook Group

---