The (PCAFPD) Peace Corps Alumni Foundation For Philippine Development Scholarship is now open for the school year 2024 – 2025 for all Eligible College Students, PCAFPD Scholarship Program is to provide Educational Assistance to all the Deserving Filipno Students accross the Country.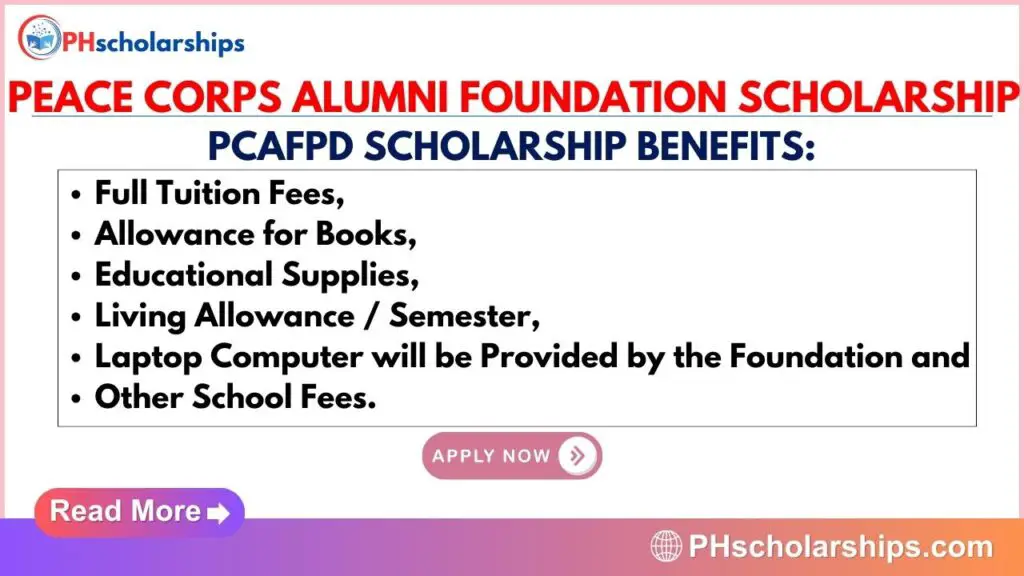 What is PCAFPD Scholarship Program?
The PCAFPD Scholarship Program is mainly designed to proved Educational Assistance for the Filipino Students and Contribute to the Development of the Philippines. This program is for the supported by former peace Corps Volunteers and Filipinos who support the further Philippine Development.
Basis for PCAFPD Scholarship:
Academic Excellence,
Financial Assistance,
Commitment to Serving your Community or Country.
Also Apply – DOST S&T Undergraduate Scholarship 2024
Benefits of PCAFPD Scholarship program:
Here are the list of Benefits for the PCAFPD Scholarship Scholar will receive:
Full Tuition Fees,
Allowance for Books,
Educational Supplies,
Living Allowance / Semester,
Reimbursement for other Education – Related Activities for Prior Aproval,
Laptop Computer will be Provided by the Foundation and
Other School Fees.
Who can apply for PCAFPD Scholarship Program?
Here are the list of Eligibility:
Must be a Filipino Citizen,
Currently studying in Grade 12, college, or at least have graduated from Senior High School in the Philippines. We do not support study abroad.
Have a record of strong academic performance and performed volunteer community service work.
Demonstrate financial need.  Priority is given to applicants from low-income households, generally those below the poverty line for a family of four.
Be committed to serving your community and country, following your graduation from college. This scholarship is not intended for people planning to work overseas.
Applicants proposing fields of study with high potential to contribute to Philippine development will be given priority in the selection process.
Generally, you may not accept any other scholarships in conjunction with a PCAFPD scholarship without prior approval of the PCAFPD Board of Directors. If you have a current college scholarship, you need to state it in your application. Failure to inform PCAFPD of a concurrent scholarship award will result in immediate termination of the PCAFPD scholarship.
Scholarship Obligations
To keep your scholarship, you must:
Maintain a full load of courses and earn passing grades.
Submit a transcript of grades at the end of each semester.
Submit an essay at the end of each semester describing and reflecting on your experiences during the semester.
Not accept any other scholarships in combination with this one without prior approval of PCAFPD.
Request prior approval for changing from one course of study to another or to another school if you would like your scholarship to transfer with you.

 (this must be done no later than the first semester of the second year of the course).

Participate in PCAFPD networks of scholars and selected activities (e.g. mentoring program, scholar meetings, alumni association, etc.)
PCAFPD Scholarship Application Deadline:
The Deadline to apply Scholarship as follows:
June 1 – Application Process Begins
October 31 – Deadline due date for all application material (undergraduate and graduate)
November – Review of application by Philippine Board members and volunteers
December – Transmittal of all complete application forms to Washington, DC
January – Final review by Board of Directors in USA
March – Scholarship Awards posted on this website / Award notices sent to successful applicants
April 1 – Deadline for scholarship acceptance
April – May Orientation of new scholars

How to Apply PCAFPD Scholarship Program?
To Apply PCAFPD Scholarship Program you need to follow the steps :
Those who are interested and eligible college undergraduate Students can apply for PCAFPD scholarship Program by Click on the link of Scholarship Application Read the Article and apply Before it ends.