PHINMA Education provided financial support to the underserved Students, Those who are willing to apply Hawak Kamay Scholarship find the Application form in this article
HK Scholarship is open for all incoming College Freshmen and Transferess.
What are the Scholarship Benefits
Find the Scholarship Benefits provided by the Hawak Kamay Scholarship
Scholars may receive Grant of 25%, 50% or 75% Discount on their Tuition and Miscellaneous fees.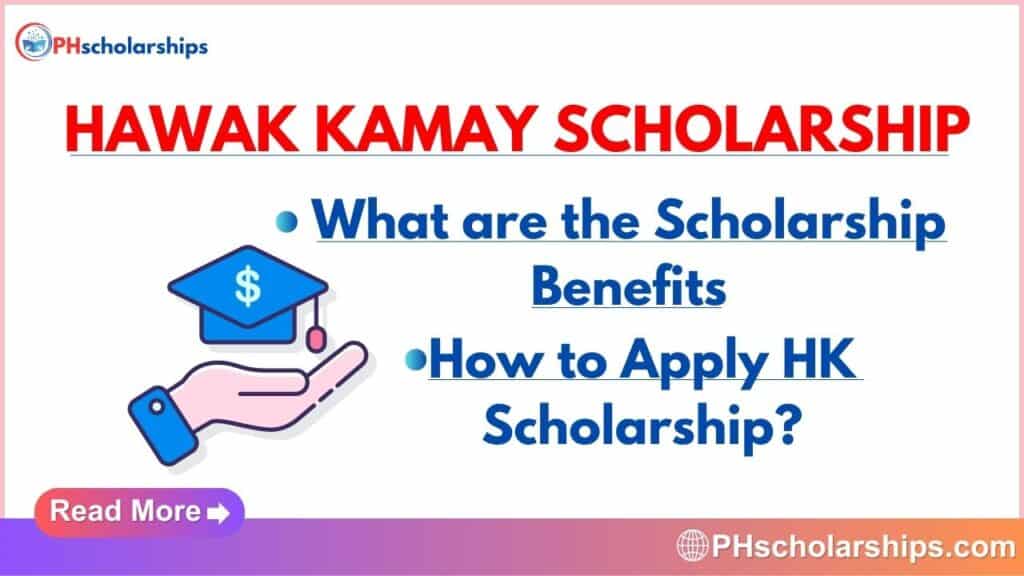 PHINMA Education schools:
(AU) PHINMA Araullo University
(UPang) PHINMA University of Pangasinan
(SJC) PHINMA Saint Jude college
(RC) PHINMA Republican College
(RCL) PHINMA Rizal College of Laguna
(UCL) PHINMA Union College of Laguna
(AU) PHINMA Araullo University
(UI) PHINMA university of IIoilo
(SWU) Southwestern University
(COC) PHINMA Cagayan de Oro College
What are the Qualification Requirements
Find the Qualification requiremts to apply HK Scholarhsip Program
He or She must be an incoming SHS Grade 11
Must be College Freshmen for academic year 2023 – 2024
Contact Information
if you have any inquries on how to apply or any other question feel free to contact
+632 896 9537
makinglivesbetter@phinmaed.com
2F PHINMA Plaza, 39 Plaza Drive
Rockwell Center, Makati City PH – 1210.
How to Apply HK Scholarship?
Those who are interest to apply Scholarship must visit the link HK Online Application Form

People also ask (FAQS)
IS Hawak Scholarship (HK) still open?
Yes, The Applicaiton of HK Scholarhsip is open and accepting online Application those who are interes may submit application.
What are the Benefits of HK Schoalrship?
Benefits of HK Scholarhsip – Scholarship provides 100% Tuition Fees to the Students who are nominated.
How to apply HK Scholarship online?
To apply HK schoalrship must visit the link HK Online Application Form
What are the PHINMA Education schools?
Here are the list of PHINMA Education Schools as follows:
(AU) PHINMA Araullo University
(UPang) PHINMA University of Pangasinan
(SJC) PHINMA Saint Jude college
(RC) PHINMA Republican College
(RCL) PHINMA Rizal College of Laguna
(UCL) PHINMA Union College of Laguna
(AU) PHINMA Araullo University
(UI) PHINMA university of IIoilo
(SWU) Southwestern University
(COC) PHINMA Cagayan de Oro College
[Source – phinma.edu]